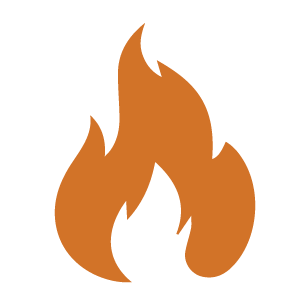 When a fire occurs, not only is there soot build-up which can lead to corrosion, staining of appliances, and floor damage. But in addition, fire can have a dramatic impact on the structure of the building. Upon evaluating your property and determining its damages, RRC offers emergency board-up and temporary tarping services to protect you and your property from further damage and exposure.
The first 24 to 48 hours after fire damage is the most important for recovery. An effective emergency response that quickly stabilizes the facility ensures recovery of as much property as possible. The soot and smoke damage that is often produced in fires accelerate the deterioration and corrosion of building components and vital assets. To compound the problem, fires are most frequently extinguished with dry chemicals or water. Plus, the toxic smoke odor left behind must be neutralized and deodorized.
RRC will take the proper steps to:
Assess the extent of the property and contents damage.
Take action to prevent further damage.
Environmental testing ensuring no toxic spill of asbestos or lead.
Decontaminate the property from smoke, dust, and soot.
Board ups and tarping services preventing access and break-ins.
Restore the contents and property to their pre-fire state.
The fire damage restoration process includes mitigating damage, providing smoke damage cleanup, and water restoration as quickly as possible after the damage first occurs.  Beyond the visible structural damage, contents inside the structure must be evaluated for recovery based on a number of factors including:
Replacement Cost vs. Restoration Cost
Effect of Smoke and Heat
Loss of Use
Loss of Value
Decreased Life Expectancy
Sentimental Value